President Barack Obama on Wednesday outlined a foreign policy vision of "might doing right," arguing that modern pragmatism requires both a strong military and the diplomatic tools of alliances and sanctions to exert influence and provide global leadership.
He told graduating cadets at the U.S. Military Academy at West Point that after the nation's "long season of war and divisions about how to move forward," they now would represent America with the duty "not only to protect our country, but to do what is right and just."
Under fire from the political right for what critics call diminishing U.S. global influence, Obama offered a robust defense of his foreign policy as the pragmatic and most effective expression of America's leadership role in the world.
"I believe in American exceptionalism with every fiber of my being," he said, referring to a tenet of conservative ideology.
"But what makes us exceptional is not flouting international norms and the rule of law; it's our willingness to affirm them through our actions," Obama said in arguing that true leadership involves not only having the world's most powerful military, but in doing the right thing.Full story
[twitter-follow screen_name='Crossfire']
At 6:30pm ET, Dr. Ben Carson and former Governor Ted Strickland (D-OH) join Newt Gingrich and Stephanie Cutter for a debate.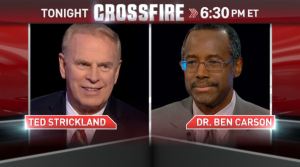 Do you think America should play a bigger or smaller role in world affairs?
Vote by tweeting Bigger or Smaller using #Crossfire or comment on our Facebook post. View results below or through our Poptip results page.