President Obama signed an Executive Order Thursday allowing the U.S. government to impose a host of sanctions on both individuals and entities deemed to be violating Ukraine's sovereignty and territorial integrity. FULL STORY
Is the President's Ukraine diplomacy paying off or failing? At 6:30pm ET on Crossfire, Sen. Lindsey Graham (R-SC) and Sen. Ben Cardin (D-MD) go head-to-head in a debate joined by Newt Gingrich and guest host Sally Kohn.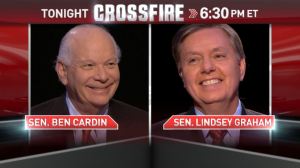 Sen. Graham has been highly critical of the President's foreign policy, calling him "weak and indecisive" and going as far as blaming Russia's invasion of Ukraine on Benghazi.
In a CNN Opinion column, Kohn argues that the Republican attacks on Obama are hurting America's global standing.
We want you to weigh in: Do you think GOP criticism of Obama undermines him on the world stage?
Vote by tweeting Yes or No using #Crossfire or comment on our Facebook post. View results below or through our Poptip results page.