Tonight on Crossfire, the GOP civil war. Republican leaders abandoned their Tea Party loyalists on the debt ceiling- was placing all their bets on Obamacare the right move?
At 6:30pm ET we have the message chiefs from both parties: Mo Elleithee of the DNC and Sean Spicer of the RNC are joining S.E. Cupp and guest host Sally Kohn.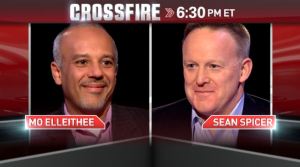 Our Fireback question gives you a little preview on to what Sally's Outrage of the Day will be. We want you to weigh in: Who do you side with in the NYC weather wars?
Vote by tweeting Roker or de Blasio using #Crossfire or comment on our Facebook post. View results below or through our Poptip results page.